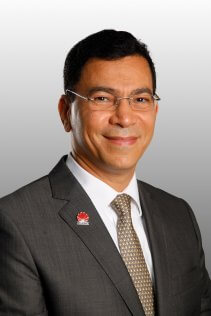 CNME Editor Mark Forker spoke to Alaa Elshimy, Managing Director and SVP of Enterprise Business Group, Huawei Middle East, at GITEX Technology Week 2020, to find out how the technologies produced by the Chinese ICT vendor have empowered industry verticals such as the education sector during the ongoing global COVID-19 pandemic.
Huawei are one of the most innovative companies in the world and they have made a huge impact since entering the Middle East region 20 years ago. It continues to serve as a catalyst for major innovation and growth across the GCC region and as they demonstrated at GITEX Technology Week in 2020, they are well-positioned to continue that in the next decade.
"We decided to double our space here at this year's GITEX Technology Week, and whilst I acknowledge that some people remain concerned about physical events due to the ongoing COVID-19 pandemic, we saw GITEX as a great opportunity for us to showcase our portfolio of solutions and products. We believe that we have the technology for today and the future and that is why we invested significantly in GITEX as we felt it was a great platform for us to illustrate the power of our technology", said Elshimy.
Huawei's diverse range of technologies and solutions have helped many major industries such as Healthcare, Education and Banking, to be in a position to respond to the many challenges that surfaced at the beginning of the COVID-19 health crisis.
"Our primary objective and focus is to bring value to our customers and partners. In the last number of years, we have talked a lot about technologies such 5G, AI and Cloud- and at this year's GITEX we have been showing new versions of these technologies which have intelligent applications infused on top of them. We have solutions for all industry verticals' – and they can be customised along with an ecosystem that can drive real value for that specific industry vertical", said Elshimy.
One of the sectors that Huawei has leveraged the power of its technology is in education, and the UAE has been used as an example of how education can be dispensed successfully in this new world of remote education and e-learning.
When the pandemic first flexed its muscles' it was clear to see early on that not every country was prepared for it, especially in terms of educational continuity. Countries that had good infrastructure in place were naturally better prepared to respond, said Elshimy.
Education is critical and as the Huawei executive stressed it was vital that educational institutions and schools embraced technology, but regardless of the pandemic believes that the e-learning model is the future.
The reality is that e-learning and remote education are the future, but it's important to highlight that it's not all just about the infrastructure, it's also about the intelligence that you bring into it. We help to provide the devices and the connectivity to empower the education solutions that pave the way for connected classroom, said Elshimy.
Huawei has positioned itself as a leader in 5G, and according to Elshimy it has allowed entities to overcome a lot of challenges that they typically faced with 3G and 4G networks, and in this era of work from everywhere and learning remotely 5G will be the technology that underpins this and fuels it.
In addition to the 5G capabilities, we have also added AI and we have designed a set of applications sitting on the Huawei cloud and all the teachers and students can access that and benefit from that. The system can detect if a student isn't doing what he should be doing, and the teacher is flagged in real-time so they can respond and as you can imagine this is a key tool to have and will empower teachers to enforce this new way of learning, said Elshimy.
He concluded a terrific interview by pointing out that everything that you buy from Huawei today, whether it be a smartphone, smartwatches, sensor or network server are all intelligent.
All our devices and products have an AI chipset integrated into it and it is all connected to the cloud. When you have all these devices connected to the cloud every day you get more intelligence on the cloud and that will ensure that all the applications and devices become smarter which empowers you to do more, said Elshimy.
Source: tahawultech.com
Printed: Computer News Middle East – CNME