By Alaa Elshimy,
Earlier this year, the world changed in the blink of an eye. Educators in particular had to rapidly adjust to the new reality of virtual classrooms. Around the world, COVID-19 has caused disruptions in the education of approximately 1.5 billion students.
In an attempt to minimize the impact of this as much as possible, schools, universities, and local authorities have turned to the information and communications technology (ICT) sector to ensure that teaching—and learning—can continue even during lockdowns. Cutting-edge technologies such as 5G, artificial intelligence (AI), cloud computing, big data, and high-speed networking have enabled the successful digitization of the education industry, which is here to stay for the foreseeable future.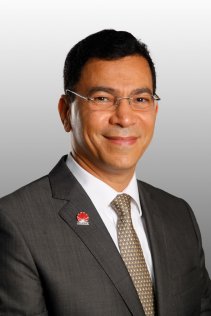 With the sudden surge of online learning in the Middle East, education is no longer tethered to the traditional classroom. Educational institutes are turning to trusted ICT experts to amplify their digital facilities and enhance the virtual classroom experience. Thankfully, there is a wide range of solutions that can connect and foster collaboration between teachers, students, parents, and school administrators, regardless of their time zone or physical location.
While the region's education sector has adapted out of necessity to meet the needs of the COVID-19 reality, it has done so using quick-fix solutions, for the most part. This was a result of needing to simply move as quickly as possible. It's been a commendable effort by and large.
In parallel, this has led to academic institutions stepping up their long-term digitization plans and rethinking their entire approach to online learning. By working more closely with ICT pioneers, educators are now getting the best out of their existing digital infrastructure, and investing more wisely in digital solutions that enable them to leverage the full potential of emerging technologies to facilitate innovation in teaching and learning management.
As a partner to many academic institutions in the Middle East and beyond, we've seen a specific desire for full-scenario solutions that combine cloud, AI, big data, and IoT to accelerate modern education. The end result is always to ensure that all students receive quality, uninterrupted access to learning. As just one recent example, Huawei partnered with Ankabut—the UAE's Advanced National Research and Education Network (NREN)—to develop a collaborative approach to research and education. This resulted in the roll-out of a strong cloud offering that enables Ankabut to access cloud services whenever needed. Instrumental to this was having a full cloud stack solution, including a cloud platform, software-defined networking, a high-speed data center network, and high-performance all-flash storage.
Such projects have revealed a lot about the future of digital education. Perhaps most importantly, that online learning is here to stay.
We see that countries are continuing their fight against COVID-19, and while physical learning environments may be used less, it is the perfect time to upgrade campus networks. For example, WiFi-6 offers an extraordinary new level of connectivity that can power the future of digital classrooms. Capable of supporting four times higher network bandwidth and user concurrency than Wi-Fi 5, today's Wi-Fi 6 solutions incorporate 5G-powered antenna and algorithm technologies to slash network latency—down from 30 milliseconds to just 10 milliseconds. This makes things like wireless 4K HD conferences, virtual reality, and augmented reality experiences smoother than ever before.
What is important to remember throughout this digital journey, however, is that IT in education is about more than just storage and networks. Quality of education determines whether you can seize future opportunities. The use of information technologies in education has already become widespread in the major developed countries of the world. They have completed building information infrastructure and have begun to explore how to develop students' creative thinking abilities via deep learning. Various new forms of interactive research learning and team learning are emerging, promoting profound transformation in the education sector.
Investments in smart education must therefore be viewed from the perspective of building bridges that cross the digital divide, equalizing educational opportunities, and helping to empower a future workforce. This ultimately heralds a new era of education in which technology brings significant opportunities and broad prospects to drive innovation and national development.
Source: TahawulTech.com